Finding the Right Chiropractor in Calgary
7 Tips for Selecting the Right Calgary Chiropractor
Selecting a chiropractor in Calgary is something that should be done with diligence and care. Do not select the first chiropractor you find on Google or even the first one you contact. Interview several chiropractors before choosing the one best suited to treat your condition. How can you be sure you've discovered the best one? Here are seven tips for selecting the right Calgary chiropractor.
1. Choose a chiropractor who makes you feel comfortable.
This may seem obvious, but it is perhaps the most important consideration. Effective chiropractic treatment requires you have a strong rapport with your chiropractor to share information and understand recommendations. This is especially true if you're committing to a long-term treatment plan.
You must have trust in what the chiropractor is suggesting and doing to enable you to have the right attitude you'll need to recover.
When you first meet the chiropractor, ask a question and notice how he or she responds. Does the person welcome your questions and answer them in ways you can understand easily? Does the chiropractor show an interest in getting to know you and trying to sense your treatment preferences?
If you don't feel comfortable, don't move forward, no matter how smart or qualified the chiropractor may be.
2. Check out credential and reviews.
Licensure is another critical factor to consider when choosing a chiropractor. It tells you that the chiropractor has the necessary training, skills, and experience to provide chiropractic care. Also, confirm that the chiropractor has no history of malpractice claims or disciplinary actions. This information can be easily "Googled," or you can check medical-rating sites.
Next, be sure to check out the chiropractor's Google Reviews and Facebook page. Reading what other people have to say about a chiropractor can provide insight into how the chiropractor provides care, as well as how he or she manages the practice. While third-party review sites are typically more candid, ask about patient satisfaction surveys when talking with the chiropractor.
3. Consider location and proximity to your home or workplace in Calgary
Depending upon your condition, you may require multiple or regular treatments for either for hands-on manipulation or to help your body re-establish equilibrium and stimulate your natural healing processes. Consider how far you need to travel to visit your Calgary Chiropractor. You'll likely appreciate one that's close to your home or workplace if you need to visit a couple of times per week.
4. Ask about the chiropractor's experience with your specific condition.
Experience matters when you're facing musculoskeletal or spine health issues. The more experience a chiropractor has with a condition or procedure; the better your results are likely to be. Ask how many patients with your specific condition the chiropractor has treated. If you need a specific procedure, ask how many of the procedures the chiropractor has performed and find out about complication rates, i.e., complications the chiropractor has encountered as well as your own risk of complications.
5. Understand the techniques used by the chiropractor.
Most chiropractors are experienced in a range of techniques, but not all may suit your needs or meet your preferences. Treatments may include acupuncture, nutritional counseling, massage therapy, interferential electrical muscle stimulation, cryotherapy and heat therapies.
Some patients, for example, may prefer the immediate feeling of relief offered by the "joint popping" type of spinal manipulation, while others may feel more comfortable with a low-force chiropractic technique.
6. Ask how treatment plans are put together and anticipated timetables.
Of course it is challenging for a chiropractor to say without reviewing you; however, the doctor should be able to give you a rough estimate based on your described symptoms. Be cautious of those who promise too much or too little, and feel free to question further if you think this may be the case.
7. Be sure to ask about the expected number of sessions and costs
In your initial consultation, your chiropractor should put together a treatment plan that is tailored to your specific requirements including the estimated number of sessions needed and expected cost.
Don't be afraid to discuss costs upfront before you commit to a treatment plan, and also to determine if it's covered or partially covered by your insurance plan or through your employer.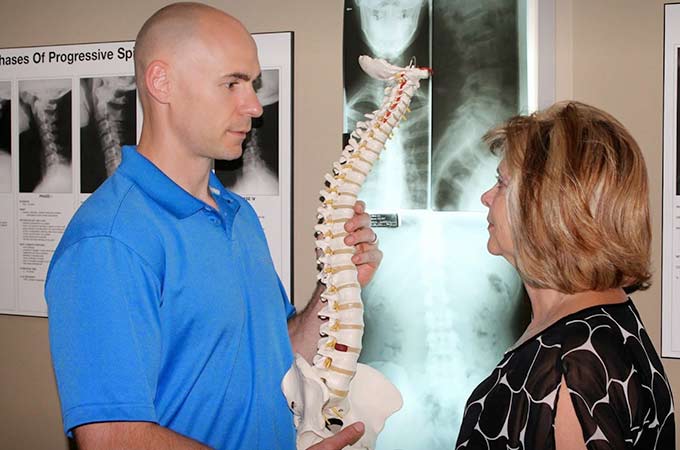 Start with a free conversation
This is where the pain stops and the healing begins.
Your first visit is where Dr. Cain gets to learn a lot about you. After your conversation where he's able to hear your concerns you can move forward with a full medical history, spinal, orthopedic, and neurostructural exam, and x-rays if needed. After assessing this information the doctor will explain what the underlying cause of your problem is, how he can help you, how long it will take, and how much it will cost. To get started, schedule your free consultation using the nearby form or by calling (403) 271-7224.